Here's Charlotte's new sweater.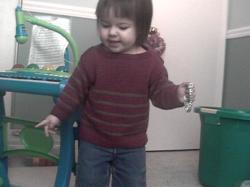 I love this sweater on her. She'll definitely be wearing it a lot this fall. The pattern is the Big Push Sweater from Miss Bea's Playtime. It was knit up on size 6 and 8 needles and used 3 balls of Rowan ASC for the main color- Kiss- and 1 ball for the stripes- Fern. I made the 1-2 year old size and didn't change anything about the pattern- which led to some confusion. I used a three needle bind off for the first time on the shoulder seams and was left with a visible seam. After I talked with my mother in law and read through Monday's comments, I realized that I had bound off with the wrong sides facing, so my seam was on the wrong side. I was about to reseam it, when I read through the instructions again and realized the seam was supposed to show. I had seamed it correctly for what the instructions wanted, so I left it and am very happy with the results. Here's what the shoulder seams look like.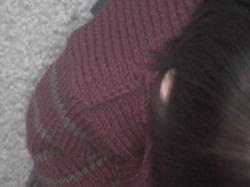 I've already started on Charlotte's next ASC project and will post photos tomorrow.