My daughter is now an official Wiggles Groupie. Charlotte has been enjoying the TV show for a few months now, so last night we bought her first Wiggles CD. Not only did she recognize the people on the case, but since we picked it out, she has not let the case out of her sight. I'd thought she might be too young for a Wiggles concert, but now I think she'd really like it.
She was so busy dancing to her CD that I had a hard time getting her to pose with her winter headband.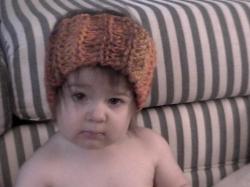 Instead of another scarf I used the Gedifra to make an earwarmer. I cast on 10 stitches and worked 2 rows knits, 2 rows purl, until I ran out of yarn. Then I sewed the two ends together.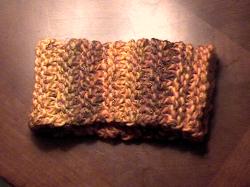 The yarn is very thick, so her ears will be quite warm this winter.
Tonight, I want to have the sample for Thursday's class finished.