The pregnancy symptoms have arrived at our house. I hadn't had any problems before this weekend; I was just hungry all the time. Now I'm still reeling from my third day of morning sickness. Unfortunately for Mike, today's his birthday, and he got stuck with all the preparations. I've been knitting his gift for the last month, but when my wrists started bothering me, I had to slow way down. So he received half of his present today.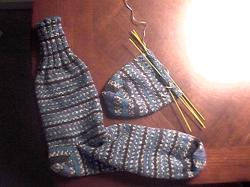 The first sock fits fine, so it's just a matter of completing the second one.
There's a new to do list for this week. Project priorities have been reshuffled, so the old stuff is just on hold for now.