The Good Stuff-
The shoes are finished.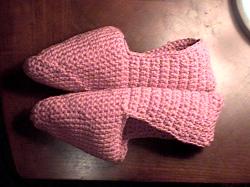 I made the larger size this time and I still only needed 3 balls of the Handknit DK. (The pattern calls for 4.) The color I used was #303. The shoes work up really quickly; I made these in one day.
The scarf is blocking.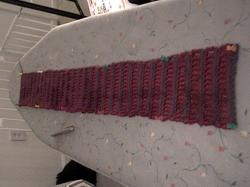 Tomorrow morning when it's dry, I'll add the fringe. I made this with two balls of Mission Falls 1824 Wool.
The Bad-
I've given up on the Lana Grossa sweater. For the life of me, I could not get the gauge. I went up 3 needle sizes, and by then I didn't like the way the fabric looked. I think I'm going to use the yarn to make the Summer in the City Tank from The Yarn Girls' Guide to Knitting instead.
Charlotte's blue sweater just needs the collar knitted on and the sides seamed. I bought size 2 circulars for the collar and was ready to finish when I discovered something disturbing. The #2 straights I'd used on the rest of the sweater were 2.75mm. The circular I bought, also size US 2 was 3.0mm. Isn't this stuff supposed to be standardized! I've been so disgusted with the project since that I've just left it in the workbasket.