I feel like the stubborn people who go on What Not to Wear armed with their own set of silly fashion rules that they've used all of their life. Maybe my show could be called What Not to Knit. Thank you to all of the people who took the time to reply about the cotton angora. I now realize that it doesn't matter if Charlotte already has a sweater in this yarn. By the end of May, she'll have a matching tank as well.
There is knitting going on here -I promise. As proof, here are some pictures of my current WIPs.
First up is 6 inches of Charlotte's tank.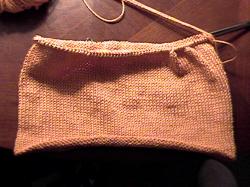 I'm using up one 250 yd skein of Classic Elite Provence on this project and making up the pattern as I go. I'll continue knitting in the round until I get to the armholes, where I'll bind off the back. I plan on knitting a front bib and straps to criss-cross in the back. And the whole thing will be finished off with a single crochet border -probably in a contrasting yarn. I've only got about an inch and a half before I hit the armholes, so this project can still be finished this week.
Next are the pieces of Charlotte's Blue DB sweater.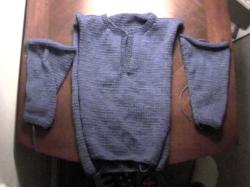 I've knit the collar and just have to sew the sleeves on, sew up the sides, and sew these duck buttons on.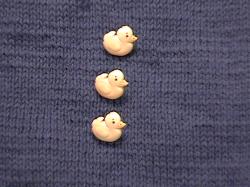 The sweater is cotton so it's nice for the slightly chilly spring days we're still having and it fits Charlotte perfectly now -both reasons I need to hurry up and finish it. One night of good TV or a movie should change this project into a FO.
Next up is 5 inches of my tank back.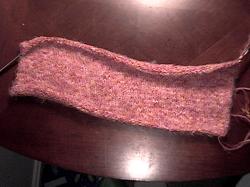 I based my completion estimate on the story that went with the pattern. The customer bought the yarn on Friday, knit the tank over the weekend, and wore it to work on Monday. Apparently when I decided I could finish it this week I was under the delusion that a) I was single with no kids and b) this was the only project I'd work on this week. I might be able to finish the back this week.
The last project is the change purse, which I now have more yarn for. (Sorry, no picture.) I only have 5 or 6 more rows left, so I can finish this one in about an hour.
That's it for now. Tune in tomorrow for yarn store samples.