Yesterday was a good yarn day. First of all my wonderful secret pal sent me an Elann gift certificate. Thank you so much. I'm currently trying to decide betwwen yarn or patterns. Secondly, I received some new yarn and couldn't resist playing with it last night. Here's some Gedifra Byzanz.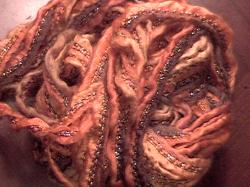 The yarn and I are still trying to decide what it wants to be knit up as, so no definite project yet.
The other yarn I brought home is Sirdar Fizz. It was sitting on my desk next to some OnLine Linie 64, and I decided to combine the two. The result is a scarf that I'm just infatuated with. This is the best picture I could get of it.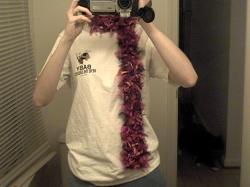 And here's a closer look.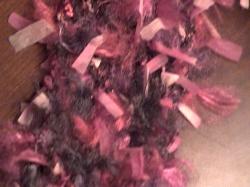 I'm not a huge novelty yarn fan, but I absolutely love this scarf. The Fizz has little ribbon bits mixed with feathery yarn slubs to give the scarf most of it's personality, while the Linie 64 adds a touch of sparkle. The scarf is all single crochet. I used a Q hook and just did rows of 6 stitches each. The whole project took less than two hours.