I had a great time today working at the yarn shop. In between customers, I worked on a crochet sample.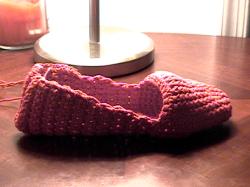 It's a bedroom shoe from Ericka Knight's Simple Crochet. All that's left is the edging.
I also got to meet the very cool Wendy from wendyknits. She was working on her latest sweater which looked even better in person than on her site. I've never seen such a complex fair isle being knitted up. It's amazing to watch the color design form.