The stray cat we were caring for is now in an Advocats foster home. If you live near Madison or Falls Church, VA and are looking to adopt a cat, Camellia is a very sweet and loving girl and would make a great addition to your home. Her picture and information will be posted on the Advocats site later this week.
Did anyone watch the ACC tournament over the weekend? Most of the games were very exciting, especially the final one. Congratulations to Maryland!
While watching basketball, I worked on Charlotte's Easter shrug. The pattern is Poppy from the Debbie Bliss Cotton Angora book. I've finished the back and am working on the second sleeve.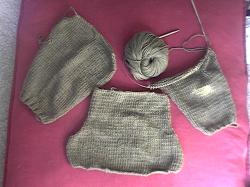 I'm also working on a new store sample- progress pics tomorrow.
On Saturday, we came home from the store to find a package from my secret pal! She sent two hanks of yarn, some bamboo circular needles, and a handthrown vase.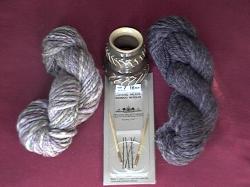 Thank you Secret Pal!
I had some server issues over the weekend, so my blog and email were unavailable over most of the last two days. Everything is back up and running, so now that I can get to my links list, I'm off to check out what 's going on with everyone else.