We've had a very eventful weekend. Here are the highlights:
-Our meeting with the babysitter went well. Charlotte's first stay with her will be next Thursday.
-A foster group has agreed to take in the stray we've been caring for.
-My test results came back normal, so I might not have anything wrong with me. I go back to the doctor on Thursday.
-MagKnits came out yesterday. My favorite pattern is the Sassy Stripes top. I just bought a pair of pink capris that would look great with it.
-Sandy kicked off the Secret Knitting Pal program. I'm going shopping on Friday to get my person's gift.
-My yarn diet is over!
Even with everything going on this weekend, I was able to squeeze in some knitting. I finished the first heart sock and am just past the heel on the second.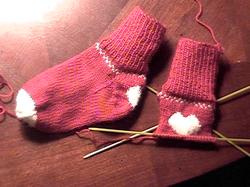 The back of the DB blue sweater is finished.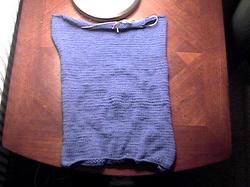 I even got in some rows on the Weekend sweater- pictures tomorrow.
February was not a very productive month. I finished my husband's gloves, the Warm Up America squares, and the Wavy Ribbon Tank, but failed to complete several other projects. I've added a few other projects to the list which need to be finished soon including a UFO for March. This is an afghan that I started in January 2003 for a person at my mom's work. She had received a lot of yarn when her grandmother died. Because she didn't know how to crochet or knit, she had my mom give the yarn to me. She was very close to her grandmother, so giving away the yarn was very emotional for her. I've been working on this afghan using her grandmother's yarn as a thank you and would like for her to go ahead and have it. I'll post pictures later this week.