As promised, here's an update on the store sample. I'm making a purse out of several crocheted flowers. Here are the flowers so far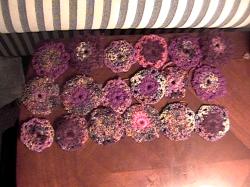 and here is what each finished flower will look like.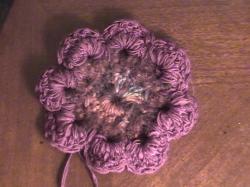 The pattern is Flower Garden Bag by Nancy Brown. All of the yarn changing is slowing me down a bit on this project, so I'm afraid my reputation for speedy store samples will be shot with this one.
I'm not the only one crocheting flowers; they're blooming all over the place! Check out Georgia and Laurin's sites to see more.