I'm working on the pinky for my husband's second glove.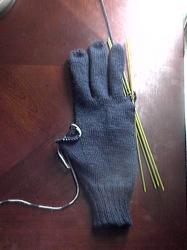 It shouldn't take long to finish now; I just need a little uninterrupted knitting time. I also finished the Warm Up America squares. They'll be dropped off at Michael's today.
Charlotte just threw her bowl in the floor to let me know she's finished with breakfast, so I need to go clean up. Even more than having her potty trained, I'm looking forward to the point when mopping the kitchen floor is not part of my morning routine!