I may not earn a full time salary, but I love making money for doing crafty work. I've made and sold everything from soap to beaded necklaces to crocheted afghans. I've worked at Michaels, MJDesigns, and the GA Tech Crafts Center. And I've even taught ceramics and crochet classes. I just need a creative outlet in a job. So, right now, I'm just ecstatic because it looks like I'll be teaching classes at Knit Happens starting in April! Plus, a friend of mine just placed an order for a commissioned baby blanket. It's great to feel like I'm contributing to our income while doing what I like.
I've got a knitting meetup tonight, and I plan on bringing Charlotte's socks.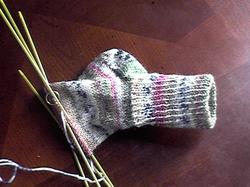 These are my first top down socks, and it's not too bad. The pattern is from Knit a Dozen Baby Socks. I had to work a little with the stitch count, because I'm using a smaller weight yarn and a smaller needle size than called for.
And here's Charlotte with her favorite use for my Addi Turbos.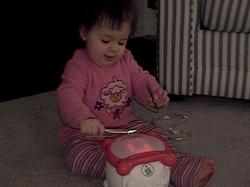 Who knew that size 11 circulars would make such good drum sticks.