Here are the completed jelly bean socks.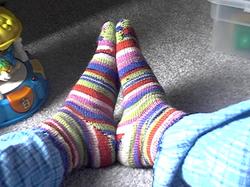 Thanks again to my in-laws for the sock yarn. They also gave me a ball of Magic Stripes in the Purple Pattern which I plan on using next month.
With the socks finished, I've started on the Guideposts sweater. Last month, Sarah put a call out for a charity sweater knit along. Finished sweaters are sent to the Guideposts Sweater Project. Children's sweaters from sizes 2-12 are accepted. My contribution will be this sweater.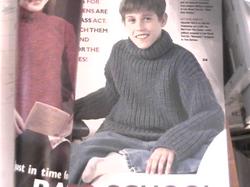 The pattern is number 36 from the Fall 2001 issue of FCEK. I have a lot of black Lion's Brand Jiffy floating around in my stash so I'm using that in place of the Wool Ease Chunky called out for in the pattern.