I received my Elann package today! I got some Peruvian Collection Baby Silk to make some nice gloves.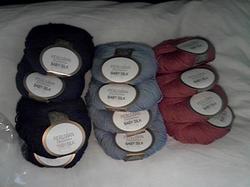 I also bought some of the Sock It to Me yarn for socks of course.


A lot of my gift knitting will come these yarns and now I can start on it - after I finish the Guide Posts sweater and the Black Jacket of course! I did accomplish some knitting this weekend; I'll post a status update tomorrow.