Here is Charlotte modeling her finished winter accessories.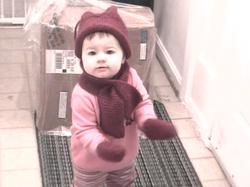 Her scarf is garter stitch with a slit to pull through one end. Ideally both the scarf and mittens were going to be for Christmas, but only the mittens were finished in time. Given the fact that Charlotte usually takes off her hat and socks as fast as possible, I was surprised to find how much she likes wearing her mittens.
All of the embroidery on the right side of Charlotte's black jacket is finished and the buttons have been sewn on. Now I just have to sew 10 flowers on the left side and it'll be complete.
In GSRP news, Wendy now has the cable box. Her detailed update will be posted tomorrow.
Check out Christine's site to see her beautiful, finished Aran baby sweater. One of her resolutions for 2004 was to learn to knit on Aran sweater. We're not even through the first week of the new year, and she's already designed and knitted one. She had a dream about an Aran pattern, sketched it out when she woke up, and finished the whole thing in a matter of days.
Good luck to those of you back at work. Hopefully geting back into routine after the holidays won't be too difficult.