I love knitting baby items, because they work up so fast. A pair of mitts for Charlotte took less than two hours. I made these mitts by making a no heel version of Wendy's toe-up socks. I used size 8 dpns and less than one skein of Dublin by Passport Yarn Co. Here's the finished product.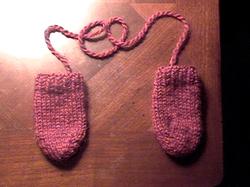 I left a long tail on the end of the second mitt and tied it to the first one to keep the mitts together in Charlotte's coat.
I've also been plugging along on my husband's gift. It's on size 11 needles which feel huge after all of the socks on size 0s. It's about halfway finished, and he's working through Christmas eve, so I think I'll get it finished in time.