With so many items on needles, it's getting hard to justify starting new projects. So, for 2004, I'm resolving to complete at least one overdue UFO per month. To be considered for UFO reduction, a project must have been started at least 4 months prior. The featured UFO for January will be the black embroidered Debbie Bliss jacket. This project was started back in July. The actual knitting portion of the jacket was completed in September, and it has taken over three months to embroider the flowers on the front of the jacket. By January 31st, this jacket will be totally completed and ready to wear.
In sock news, I'm past the heel on the first sock.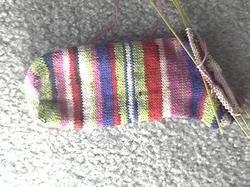 I'm enjoying the completely random striping in these socks. The second sock probably won't match the first one, and that's ok. A pair of crazy striped socks can be even more fun when they don't match exactly.