Thanks for the helpful comments yesterday. The alterations I made to the pattern fixed the shoulder and armhole seams so that they matched up and matched the sweater diagram. However, the alterations changed the neck opening by making it a half inch deeper and taking away an inch from the width. My initial worry was that this would make the neck opening too small. Since all of my freaking out had to do with the body of the sweater, I decided to go ahead and sew up the shoulder seams and knit the neck so I could better tell if it was going to work or not. Here's the sweater after the shoulder seams were sewn up.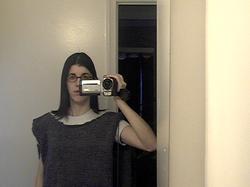 As you can see the neck opening is huge! If I shifted my shoulder a little, I could get a Jennifer Beals Flashdance look going. Next, I picked up my stitches, knit the neck, and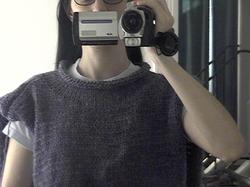 -voila!- the neck looks fine. Now I just need to finish those sleeves and pop them in and we'll have an actually decent looking sweater which just might work.