Between the storms and heavy rain yesterday and the strong wind gusts today, I've been staying close to home and actually getting some knitting done.
Here is the lovely Sonnet. The edges really are straight, it's just my circular needles that are curvy.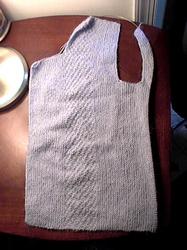 And here is the smaller but equally lovely Haiku.


Both are coming along now that I'm finally past the cast on for the back. (I had a lot of trouble adding the correct number of stitches, mainly due to my soon to be one year old.)
Before the storms yesterday, I did manage to get our flowerbeds weeded. I found a small worm in one of my rose bushes and discovered that it was a rose slug. These bugs have been eating all the meat off of my rose leaves, leaving little leaf skeletons behind. I've knocked off any I've found, so hopefully I won't find much more flower damage.
I'm still chilled from the wind this morning, so I'm off to warm up. Stay warm where you are and have a nice Wednesday.