Today was a beautiful fall day: sunny, blue sky, nice breeze. A little too warm for Charlotte's heart hat, but she cooperated enough for me to get a couple of pictures. Here she is modeling the finished product.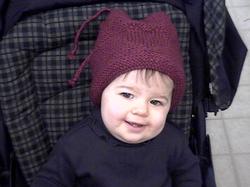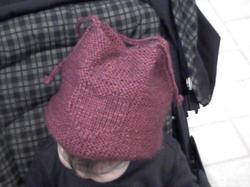 No progress on the jacket currently.
This is one of the new projects I'm starting.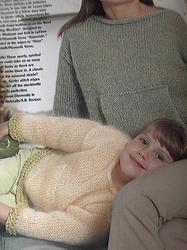 The sweater is from the Fall 2001 issue of Family Circle Easy Knitting. I'll be using Passport Yarn Co. Venice yarn for the body and Rowan Cotton Tape for the waist and cuffs.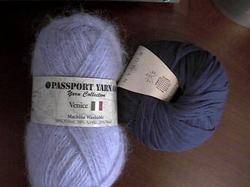 Most of this sweater will be made on my knitting machine.
I'm attending a knitting meetup tonight and, since I don't currently have a project on the knitting needles, I need to add one more new project to the list.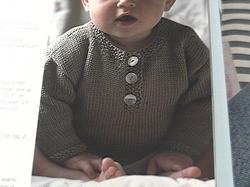 This baby sweater is from the Debbie Bliss Knitting Workbook. I'll be using Lana Grossa Klimatika yarn for it.
In other news, the new issue of Knitty is out. For those of you who are unfamiliar with this publication, it is a free online knitting magazine with lots of great patterns.
Also, for those of you interested in charity knitting, Michael's is accepting squares for Warm Up America and Wendy of wendyknits is still accepting catnip mice.
Currently, we're preparing for Hurricane Isabel. Mike's out hunting down batteries. We're around 30 miles from the coast, so we're expecting to lose power. The storm's supposed to hit around midday tomorrow, so chances are very good that it'll be a few days before I'm posting again.