The FCEK sweater project has been postponed indefinitely. I'm using the venice yarn I'd set aside for it on Sonnet instead. Here's my progress so far.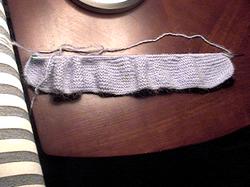 I'm very excited about this project. The pattern allows you to use any yarn you choose, so you have a pattern which you can fit to your yarn stash rather than trying to fit your yarn stash to the pattern. Plus, this will be the first project I have ever made for myself. I also plan on making a matching sweater, Haiku, for Charlotte. I'm not sure if her's will also be in blue or if I'll use my pink venice yarn. The yarn is fairly fine (8 st per in on US 4 needles), so this top will turn out to dressy. I'm making the small, so it should be somewhat form fitting as well. Depending on how it turns out, I might try to make a matching shell to wear under it. Charlotte and I could have matching sweater sets! I've joined the Sonnet Knit-Along which you can find by clicking the button under my links. It will be fun to see the finished projects because no two sweaters should be the same. The reason why this decision has led to no FCEK sweater is because I can no longer obtain the venice yarn. I bought all that I could find when Michael's clearanced it a few months ago, so I have to make due with what I've got. If I have enough yarn left over, than maybe the FCEK sweater will happen.
The blocking really made Charlotte's collar behave. Here is a picture with the finished collar embroidery on one side.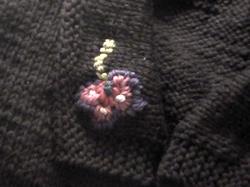 The meetup Wednesday night went alright. Here's what I accomplished on Charlotte's blue sweater.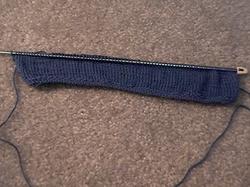 Enjoy your weekend.