September 14, 2005
Breathing Life into the Stash
I've been busy organizing my yarn stash and uncovering a few buried projects that I'd like to go ahead and finish. The first of these is Charlotte's Red Cable & Moss Stitch Jacket from the Debbie Bliss Baby Knits book. I bought the yarn for this project two years ago and worked on it a little last summer. Now, after sitting in the basket for over two years, the back is finally finished.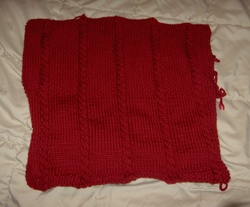 Lucky for me, the largest size (18-24 months) will fit Charlotte still without any trouble. Thank goodness Debbie Bliss sizes her toddler jacket patterns big. (Remember Charlotte's other jacket from this book? It finally fits well enough that we don't have to roll up the sleeves.)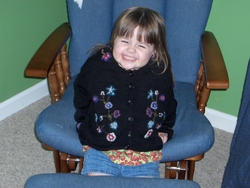 Yes, that's the 12-18 month size.
Posted by crsattic at September 14, 2005 11:51 PM