September 7, 2005
Thank You
I've had the most wonderful mail week- both snail mail and email. First of all, thank you to Denise and Christina for the lovely ecards. I don't know who enjoyed them more, me or Charlotte. (Everytime I get an ecard, Charlotte will also watch it. Then, everytime she's near my computer she'll ask to watch it again and again.)
I also want to thank Julie for the lovely origami crane.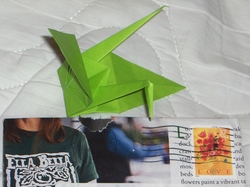 I had just read about the handmade magazine envelopes on the RAOK board, so when I opened my mailbox to find yours, I knew it had to be something good.
I'm already feeling spoiled, and I've only just passed the halfway point. Allena sent me some beautiful handmade stitch markers.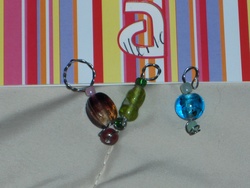 Thank you so much! I love the twisted wire design.
And I've saved the biggest package for last. Here is what arrived from Jess for the SP5 exchange!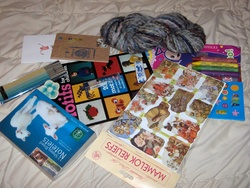 -There's incense with a beautiful ceramic flower incense holder. I love the blue crackled glaze on the holder. (When I was in college I taught a ceramics class. Picking out glazes is almost as fun as choosing yarn!)
-There are some lovely fairy pictures- perfect for scrapbooking.
-Cute Ribbon, which may also be used for scrapbooking or, if I'm feeling daring, a sewing project.
-Lovely flower beads, which will be used for stitch markers or a bracelet.
-A nice little notebook, which will probably be the first thimg I use. (I'm a compulsive list-maker.)
-Some sheep notecards. I think my favorite one in the pack is this one.


Doesn't it remind you of three busybody ladies?
-A skein of collinette graffiti in the prettiest colorway. I love the blues and browns in it.
-A book of knitting motifs. I know right away that I need to use the butterfly one on a sweater for Charlotte- then probably the train for Joshua.
-And speaking of the kids, there was also a Teletubbies magazine with crayons and stickers.
Thank you so much, Jess, for being such a great secret pal!
All of these surprises couldn't have come at a better time. Both kids were sick with their first stomach bugs, so we were washing sheets, cleaning the carpet, and just plain worrying about them for most of the weekend. (The first one got sick Friday, and neither one was completely well until Monday.) All of the mail and ecards really boosted my spirits; thank you so much!

Posted by crsattic at September 7, 2005 11:57 PM